MeshTelco Takes Your Gym to the Digital Age with IoT, Mesh WiFi Technology and Cutting-Edge Tools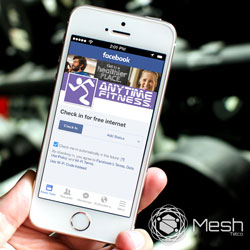 MeshTelco (Anytime Fitness Australia Preferred Supplier for WiFi and Internet Service) powers up your gym to the next level with IoT, "no-dark-spots" WiFi, seamless internet experience, digital marketing, and smart communication tools.
MeshTelco, a company specialising in high-speed WiFi and internet services, became the preferred supplier of Anytime Fitness Australia in November 2016. Today, they announce servicing over 50 clubs Australia-wide, transforming ordinary gyms into smart clubs in order to thrive in the digital world.
MeshTelco is introducing the concept of Smart Gyms to gym owners – a model that focuses on enhancing connectivity and productivity through high-grade technology and equipment.
In an interview with Edenexchange, Adam Delon, CEO of MeshTelco said: "We are on a mission to eliminate poor internet connectivity using the latest wireless technology … We have a solution that we can bundle together with the internet, together with a fully managed, secure guest Wi-Fi network that even markets the business, increasing its bottom line."
Anytime Fitness Australia Preferred Supplier
Anytime Fitness is a 24-hour health and fitness club operating in over 3,300 franchised locations and 26 countries. In 2015, Anytime Fitness amassed a total of 420 gyms in Australia, becoming the biggest fitness community in Australia today. The preferred supplier partnership provides Anytime Fitness Australia franchisees and members a modern gym experience functioning on a solid internet foundation and seamless WiFi.
A Smart Gym is supported by strong, seamless internet connection and uses IoT devices to operate and deliver experiences that are better, faster, and smarter than traditional gyms.
MeshOne: High-Speed Guest WiFi
With a powerful mesh WiFi network, smart gyms can have internet access which breaks down all barriers allowing for devices to roam freely with seamless connectivity from corner to corner, whether indoor or outdoor.
MeshOne increases a gym's market presence and collects user data through its dashboard. This also includes Facebook Check-ins which helps gym customers to be engaged and thereby promoting your business. A single FB check-in has tremendous potential to market your business as one check-in could have at least 200 impressions.
Mesh Internet: NBN and Over-Copper Connections
This ensures your gym has the quickest and most reliable internet connection whether you are in the 'zones' of the National Broadband Network (NBN) or having over-copper connections of Midband Ethernet (MBE) and Ethernet First Mile (EFM).
MeshDigital : Digital Signages – Make Your Walls and Windows Come Alive
Transform any part of your gym (walls, windows, etc.) into a communication platform delivering your marketing campaigns. Smart Screen allows you to push campaigns into any internet-connected device. Active Glass uses rear projection and state of the art light-capturing film to turn your windows into advertising space.
MeshConnect: VOIP, Softphones and Inbound Technology
With MeshConnect, gym owners can communicate effectively with customers using VoIP and softphones. This allows gym owners to manage their phone system through a dashboard, replacing old encumbering phone systems with 3CX technology; allowing for call recordings, control IDs and receive in-depth communication reports.
Interested in becoming a Smart Gym? Learn more here: https://goo.gl/whNVbU
About MeshTelco
MeshTelco is a telecommunications startup specialized in using the power of connectivity. The company provides the right internet plan combined with high-grade technology and equipment to allowing businesses to be more competitive in a digital world. Learn more at http://meshtelco.com.au
Media Contact
Adam Delon, CEO of MeshTelco
Level 1, 10A Atherton Road, Oakleigh, Victoria 3166
Email: info@meshtelco.com.au
Website: www.meshtelco.com.au
Tel.: +61 1300 080 820